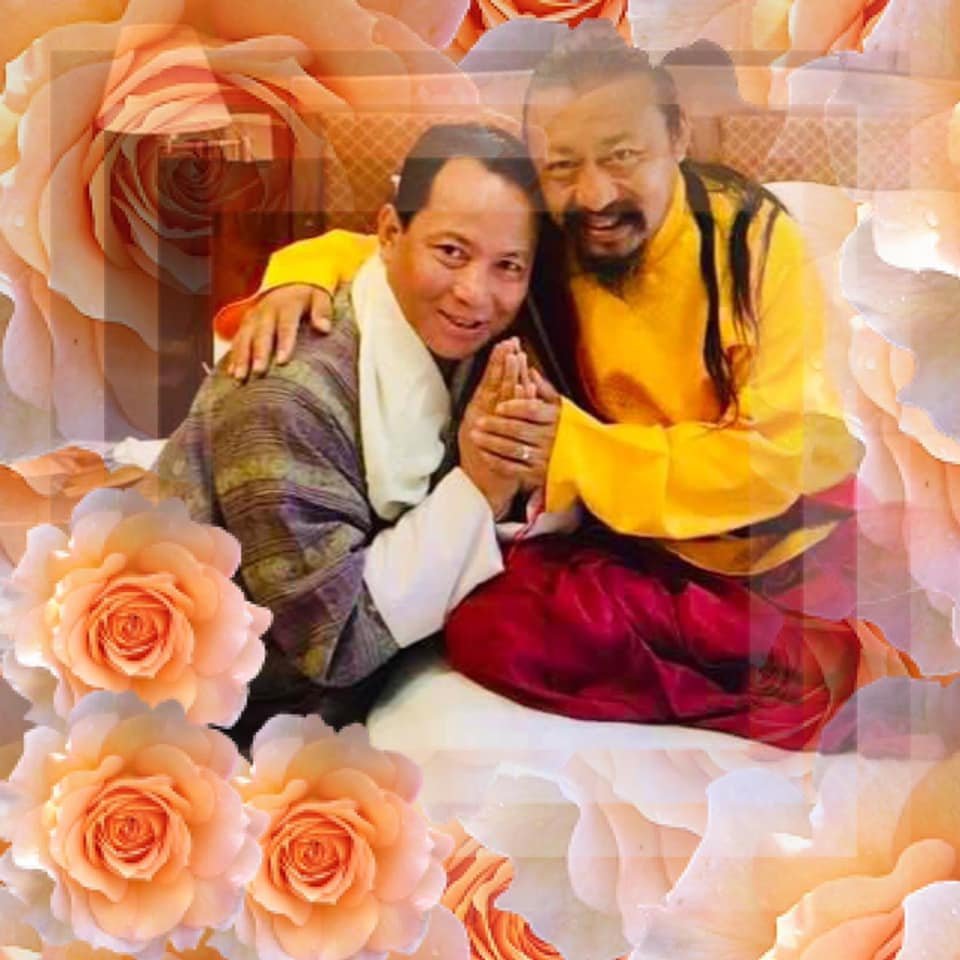 ༧ཕུབ་རྡོ་རྗེ་དབང་འདུས་ཀྱི་བརྟན་གསོལ་ནོར་བུའི་ཕྲེང་བ།
Garland of Jewels: A Long Life Prayer for P'ub Dorjé Wangdü
(phub rdo rje dbang 'dus kyi brtan gsol nor bu'i khreng ba) by Khenchen Lama Rinpoche, Pelgyeypa Dorjé (mkhan chen bla ma rin po che, dpal dgyes pa rdo rje)
ཨེ་མ་ཧོ།།
É-MA-HO
How marvelous!
ཨོ་རྒྱན་པདྨའི་བྱིན་ལ་ཐུགས་ལ་འཁྲུངས།།
OR-GYEN PAY-MA'Y JIN LA T'UK LA T'RUNG
With the blessing of Oḍḍiyāna Padma, born in his Awakened Mind,
དྲང་བདེན་ངེས་ཤེས་ཕན་བདེའི་ཕྲིན་ལས་རྒྱས།།
JAM-TSÉ NYING-JÉ TEN DANG DRO LA GONG
With loving-kindness and compassion, considering the Teachings and living beings,
དྲང་བདེན་ངེས་ཤེས་ཕན་བདེའི་ཕྲིན་ལས་རྒྱས།།
DRANG-DEN NGEY-SHEY P'EN-DÉ'I T'RIN-LAY GYAY
With sincerity and certainty, expanding the Awakened Activity of benefit and happiness:
ཕུབ་མཆོག་རྡོ་རྗེ་དབང་འདུས་ཞབས་བརྟན་ཤོག།
P'UP-CH'OK DOR-JÉ WANG-DÜ ZHAP-TEN SHOK
May the honored feet of P'ubch'ok Dorjé Wangdü remain firm.
ཅེས་པ་འདི་ཡང་རབ་གནས་ས་ཁྱི་ཟླ་༦ཚེས་༨དགེ་བར་རིག་འཛིན་དབྱངས་ལྷ་མོས་ངོར་ཤྲཱིཿཨེ་མ་ཧོས་སྟག་ཚང་གུ་རུའི་གསང་ཕུག་ནས་སྨོན་པར་དགེའོ།།
And thus so it was that, on a positive date, the 8th day of the 6th month of the Earth Dog Year of the Sixty-Year Tibetan astrological cycle (rab gnas), in response to the request of Rigdzin Yangchen Lhamo (rig 'dzin dbyangs can lha mo), this prayer of aspiration was made by Śrī Émaho, in the Secret Cave of the Guru [Padmasambhava], Taktsang (stag tshang, in Paro, Bhutan). May it be virtuous!