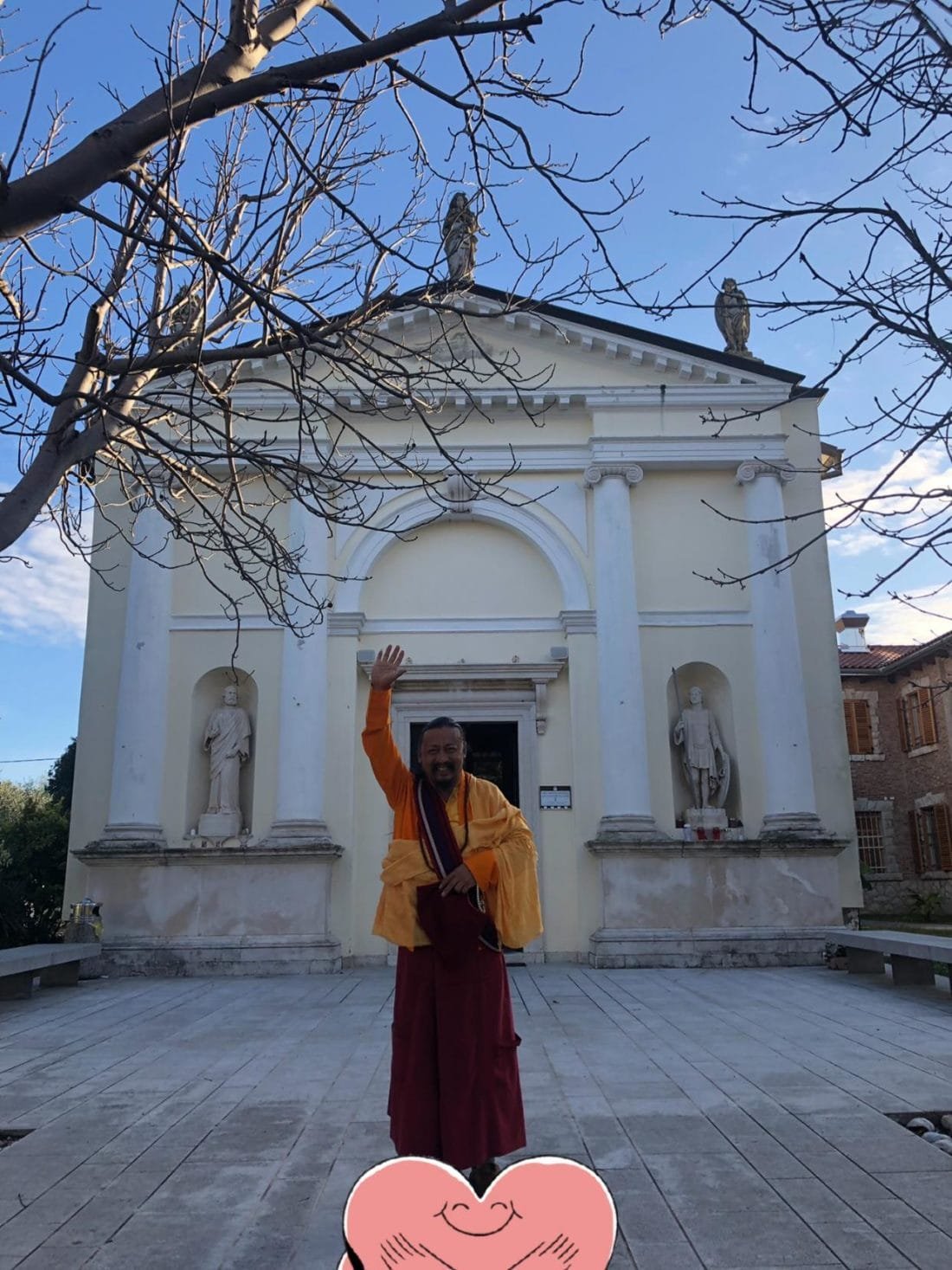 ༄༅། །གུ་རུ་རིན་པོ་ཆེའི་ཚིག་བདུན་གསོལ་འདེབས་བཞུགས་སོ། །
The Seven Line Prayer
Sedemvrsticna molitev
ཧཱུྂ༔ ཨོ་རྒྱན་ཡུལ་གྱི་ནུབ་བྱང་མཚམས༔
hung orgyen yul gyi nubjang tsam
Hūṃ! In the north-west of the land of Oḍḍiyāṇa,
Hum! Severozahodno v dezeli Odijani,
པདྨ་གེ་སར་སྡོང་པོ་ལ༔
pema gesar dongpo la
In the heart of a lotus flower,
v srcu roze lotosa,
ཡ་མཚན་མཆོག་གི་དངོས་གྲུབ་བརྙེས༔
yatsen chok gi ngödrub nyé
Endowed with the most marvellous attainments,
obdarjen z najsijajnejsimi dosezki,
པདྨ་འབྱུང་གནས་ཞེས་སུ་གྲགས༔
pema jungné shyé su drak
You are renowned as the 'Lotus-born',
si poznan kot 'Rojeni iz lotosa',
འཁོར་དུ་མཁའ་འགྲོ་མང་པོས་བསྐོར༔
khor du khandro mangpö kor
Surrounded by many hosts of ḍākinīs.
obkrozen z mnogo mnozicami dakini.
ཁྱེད་ཀྱི་རྗེས་སུ་བདག་བསྒྲུབ་ཀྱི༔
khyé kyi jesu dak drub kyi
Following in your footsteps,
Sledim Tvojim stopinjah,
བྱིན་གྱིས་བརླབ་ཕྱིར་གཤེགས་སུ་གསོལ༔
jingyi lab chir shek su sol
I pray to you: Come, inspire me with your blessing!
k Tebi molim: pridi in me navdihni s Tvojim blagoslovom!
གུ་རུ་པདྨ་སིདྡྷི་ཧཱུྂ༔
guru pema siddhi hung